Table of Contents and Sample Pages
The Art of Modern Orthodontics takes the reader from the basics of diagnosis and treatment planning, through the mechanical treatment process and on to the finishing and retention phases of treatment of all types of patients, with the goal of conveying to the reader the ability to visualize the protocol of orthodontic treatments using the SWA.
This all-color manual contains the following:
700 pages with over 6,000 photos and images.
An explanation of the SWA and why it is so effective.
Technical information on bracketing, banding and the use of the basic auxiliaries of the SWA.
Texts on the Theory of Orthodontics: information on the basics that are needed for diagnosis, treatment planning and the mechanics of treatment.
Diagnostic techniques combining the scientific data and the esthetic diagnosis.
Syllabus of Forces, Biomechanics and Mechanics for treatment using the SWA.
Syllabus of Elastics Forces for all types of treatments both non-extraction and extraction (space closure).
8 different Workshop Exercises dealing with the mechanics of the SWA and its auxiliaries.
Interesting texts on various subjects, for example: The influence of dysfunctions of the soft tissue on malocclusions and how to resolve them.
Over 60 different orthodontic clinical cases demonstrating the various phases of the treatment process from the beginning to the finishing phase for different age groups and types of malocclusions.
This textbook provides the reader:
A treatment system that is artistic, logical and simple, providing consistent, beautiful orthodontic and esthetic results.
Diagnosis for Straight Wire Appliance (SWA) therapy
Combining scientific data with the artistic approach.
Mechanical treatment planning
The correct use of the SWA and its auxiliaries based on 35 years of experience.
Using optimal, biomimetic "smart" forces (light, constant, Heat Activated) to reach the treatment goals.
Dr. Larry Brown, BS, DDS
University of Southern California, Los Angeles, California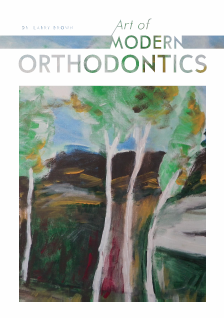 Order the book